AMEC (American Multiethnic Coalition Inc) & MEATF (Multiethnic Advisory Task Force) hosted its 11th Annual Congressional International Women's Day Celebration at Rayburn House Building, Capitol Hill at Washington D.C. on March 8, 2023 and celebrated the achievements of 20 women of diverse ethnicities.
The event was presided by AMEC/MEATF Founder and President Dr Vijay Prabhakar, Congressman Danny K Davis, Congressman Raja Krishnamoorthi, Congressman Jonathan Jackson, and Congresswoman Delia Ramirez, Tumia Romero – Chief Of Staff at Office of Congressman Danny K. Davis, Brian Pasternak – Administrator, Office of the Foreign Labor Certifications, U. S. Department of Labor, Washington D.C.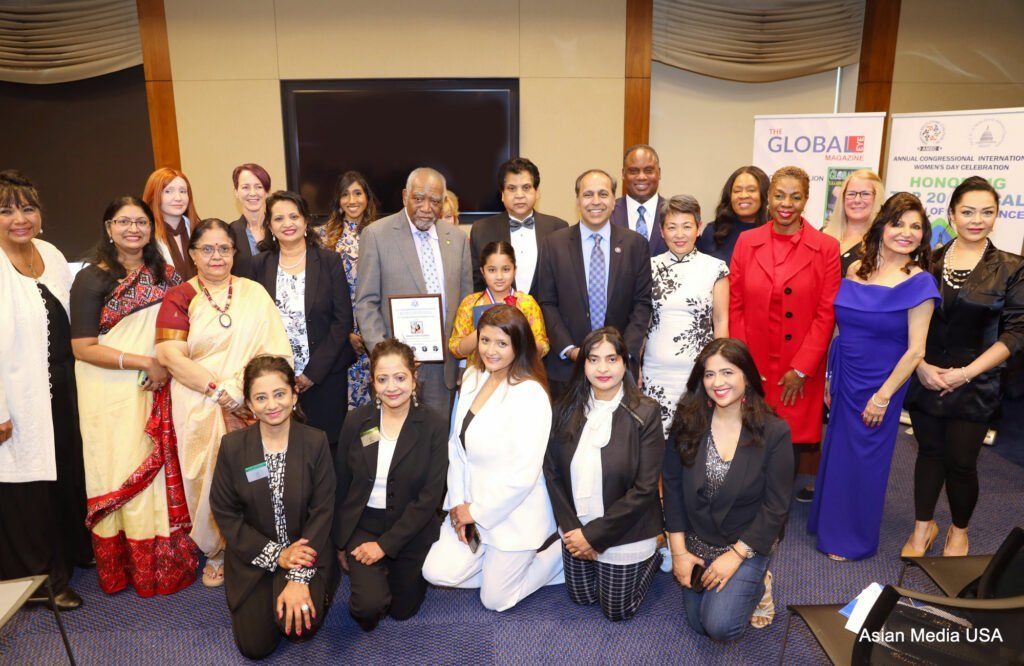 The proceedings began with announcements by hosts, Shree Gurusamy (Secretary General AMEC) and Seeta Bala (Awards Jury Chair). Tumia Romero, the Chief Of Staff at Office of Congressman Danny K. Davis, who is a fierce women's rights advocate, has also served as a deputy Director of Labor under the previous Gov. Pat Quinn, and she is currently pursuing a doctorate in public policy, in her Welcome Address said, "there were seven continents initially created where all of us come from but the main one is Africa, and then we all spread out everywhere and I am delighted to say that I'm one of those persons whose ancestry is from Africa, like a lot of us! And it's so great to see so many women here you know of different backgrounds, and we all have different stories to share, and it means something to the fabric of our society and to the people of the United States of America." She emphasized how we all women are connected with each other and how she along with Congressman Davis has been supporting their causes.
At the event, the call to action was delivered by 8-year-old Samara Karakara from New York, calling for girls' and women's leadership in education and technology, making her the youngest Indian American girl to make a call to action at Capitol Hill. A plaque and medallion were presented to Samara.
Founder AMEC/ MEATF, the brain behind the whole thing, an internationally renowned public health expert, the first Asian and person of color acknowledged by President Clinton administration, a creative master strategist Dr Vijay G Prabhakar was invited for his Opening Remarks. Dr Vijay Prabhakar, also fondly known as Dr VGP, in his most unique and inimitable style, delivered a powerful and inspiring message to the audience. He acknowledged the contributions of living legend Congressman Danny K Davis for initiating the Global Community Congressional Community Oscars and Congressional Women of Excellence Awards in recognition of ethnic communities, minorities and especially women and appreciated his efforts. Dr. Prabhakar thanked Tumia Romero, for playing a vital role in bringing this ceremony to Capitol Hill and expressed his content in the continuing of the awards ceremony for the second consecutive year at Capitol Hill. Referring to Samara Karkara, Dr. Prabhakar said he was happy to "[pass] the baton to the next generation," and her Call to Action "set the tone for today." He also welcomed and thanked Congressman Raja Krishnamoorthi, Congressman Jonathan Jackson, Congresswoman Delia Ramirez, Brian Pasternak – Administrator, Office of the Foreign Labor Certifications, U.S. Department of Labor, Washington D.C. and all the guests.
AMEC Commissioner, Richa Chand was invited to introduce the EDWARD & LILY PRABHAKAR CENTENARY AWARDS 2023, instituted by the Global Eye Magazine, a premier worldwide digital publication that reaches 42 million households including 2 million in Chicagoland, to commemorate the Birth Centenary of the parents of Chairman Dr VGP. The Recipients were: Congressman Danny K. Davis, Raja Krishnamoorthi, Jonathan Jackson and Delia Ramirez, Congresswoman all representing Illinois along with President of Chicago Medical Society Dr. Tariq Butt, Vaithilingam Shanmuganathan, South Asia Advertising Executive, The Global Eye, Los Angeles who hails from Sri Lanka and Founder of Dads with Daughters, New York, Ravi Karkara. So far 16 outstanding persons have received the Edward & Lily Prabhakar Centenary Award. The Global Eye Magazine is honoring 100 individuals/ institutions with the Prestigious EDWARD & LILY PRABHAKAR CENTENARY AWARD throughout the Birth centenary year of DR. VGP's blessed parents from March 1, 2023 to August 22, 2024
Congressman Danny K Davis said that , "I thank all of you for coming to visit your house, the House of Representatives, and the Senate..it belongs to you!" Appreciating Samara's leadership qualities, he referred to her talk as "one of the most fascinating speeches" he had ever heard.
During his award acceptance speech, praising the organizers, Congressman Raja Krishnamoorthi said he was happy to be part of the occasion to celebrate women. Referring to the organizers, he said "They do the Lord's work in terms of helping others in a time when a lot of people need help…so the helpers are the ones that we look to in Congress for leadership." About Davis, Krishnamoorthi said "he is about the people," and "community empowerment," and "if there is a way, he will mean to get it done."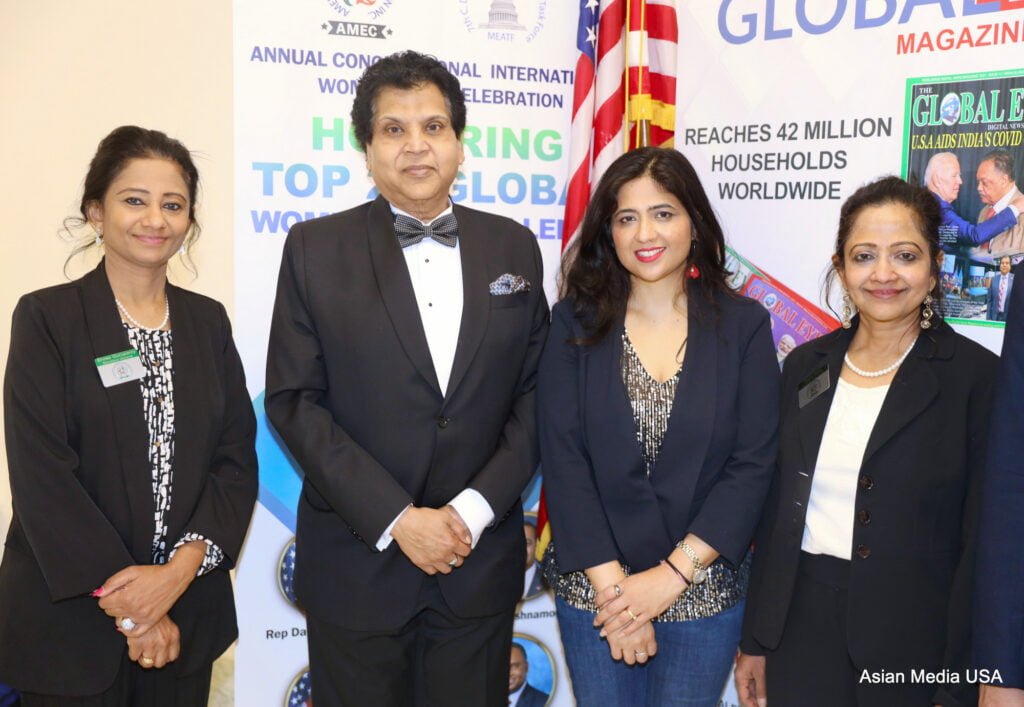 The Special Guest was a high-ranking federal official Brian Pasternak, Administrator, Office of the Foreign Labor Certifications, U. S. Department of Labor, Washington D. C. who Presented a copy of GSA's first publication SABD – a collection of poems authored by Dr Saradapurna Sonty to each awardee at the ceremony.
The final segment of the program, honoring TOP 20 GLOBAL WOMEN OF EXCELLENCE 2023, was conducted by Seeta Bala & Shree Gurusamy. Indrani Davaluri also assisted with Award Presentations. The Recipients were:
1. Jennifer Rajkumar, New York State Assembly Woman, Civil Rights Lawyer, NY.
2. Joanne Hill – Kittle, Deputy Director at NASA Goddard Space Flight Center, Maryland.
3. Dr. Twin Green, President & CEO, The Link & Option Center, South Holland, IL.
4. Dr. Sarada Purna Sonty, Founder & CEO SAPNA
5. Deila Davis, Deputy Director, National Association of Community Health Centers Inc.
6. Sherry Husa, President & CEO, MERIDIAN Health Plan of IL.
7. Reena Bhardwaj, White House Correspondent for ANI, Washington DC.
8. Mary Barthelson, Space Systems Engineer
9. Cynthia Dorsey Edwards, – President/CEO, Storehouse of Solutions, LLC, Atlanta, Georgia.
10. Usha Boddapu, CEO /Founder Esolvit, Austin, TX.
11. Melanie Fernando, Executive Director, Aetna Better Health of IL, Chicago, IL.
12. Nicole L Nicky Harvey, Founder & Chair Black Public Safety Alliance, Chicago, IL.
13. Urmil Tracy Marshall, Mental Health Advocate, Atlanta.
14. Dr Mercedes Martinez, Psychiatrist, Chicago, IL.
15. Dr.Rani Yousefzai, CEO – Belleza Med Spa, IL.
16. Dr.Anupama Reddy,Past president, AAPI(American Association Physicians of Indian Origin (2021
17. Zoe Ma, Community Activist, Skokie, IL.
18. Katherine Thorat, Realtor, Coldwell Banker Realty, Woodridge, IL.
19. Dr. Cathy Subber, CEO of Advanced Health of Naperville.
20. Prathiba Jairath, Founder, Vidya Jyoti, USA.
Past President of the American Association of Physicians of Indian Origin (AAPI), and Pediatric Anesthesiologist from San Antonio, Texas, Anupama Gotimukula who was one of the 20 Global Women of Excellence 2023 awardees, highlighted AAPI's contributions during the COVID pandemic. Dr. Gotimukula said AAPI raised over $5 million in fundraising, supplied oxygen concentrators and ventilators, and provided telemedicine assistance during the acute Delta wave crisis in India. She also talked about AAPI's national blood donation drive last year, and her ongoing Rural India public health initiative, "Indian Preventive Task Force Guidelines" for preventive health, which has directly benefited 60 villages to-date.
"I work for NASA and diversity inclusion and equity is one of our core values, and I look forward to increasing that through the digital future," said Deputy Director of NASA Goddard Flight Center, Maryland, Joanne Hill.
Mary Barthelson 2023 Candidate for Virginia House of Delegates and Space Systems Engineer, an advocate for low-income families in Fairfax County, promoter of STEM education, and supporter for the resettlement of refugees, said, "I believe that it is important for women to support and uplift each other and to encourage one another to pursue their passions and goals. By doing so we can create a world where every woman has the opportunity to succeed regardless of their background or their circumstances."
Community Activist, Zoe Ma who helps underserved inner-city youth with violence prevention, through the Gandhi King Center for Non-Violence in Englewood, IL, said she is a Chinese immigrant who arrived in America alone 28 years ago with just $40 in her pocket. "My personal achievement can inspire young women and single mothers, and the path to empowerment is through entrepreneurship," she said while advocating fair representation of women and minorities in the government and corporate world for equitable society.
Team AMEC/MEATF would like to acknowledge and thank Dr VGP for his tireless efforts and hard working Team: Our Emcees: Awards Chair Seeta Bala , Event Chair : Shree Gurusamy and Event Co Chair: Richa Chand excelled as usual. AMEC leaders: Indrani Davaluri, AMEC Secretary Virginia , Glory Jeypaul, AMEC Virginia Chair, Ravi Theja, AMEC Pennsylvania Chair, The Global Eye South Asia Advertising Sales Executive, ELP Centenary Awardee from Los Angeles Shan Vaithilingam and Asian Media USA Chair Suresh Bodiwala were equally responsible for the flawless seamless execution of an action packed an hour and half celebration of Women on International Women's Day March 8, 2023 at the historic Rayburn House Building at Washington D.C.
We salute AMEC Atlanta Chairman Mustafa Ajmeri, Edward Lily Prabhakar Centenary Awardee Ravi KARKARA, President, The Global Eye International Institute of Leadership, New York , Naveen Karna, Chief Information Officer, The Global Eye Magazine, Chicago, Anil Pulla, Chief Operating Officer, The Global Eye, Hyderabad, Top 20 Awardee Kathy Thorat, Director General, GSA India @75 Expo USA, Top 20 Awardee Zoe Ma, AMEC Commissioner, Mundelein, MEATF Councilman Dr Sriram Sonty & Top 20 Awardee "the GSA Phenomenal Woman "Dr Sarada Sonty for their tireless work which resulted in the awesome success of this event.
Photographs by: Asian Media USA