In the face of seemingly insurmountable geopolitical challenges, "Border Crossing for Love" presents an extraordinary narrative that revolves around the lives of three exceptional women. This compelling tale delves deep into their personal journeys and the profound impact it has on their loved ones. As we follow these women's adventures steps across borders for the sake of love, we witness not only their individual sacrifices and triumphs but also the ripple effects that resonate throughout their entire network of relationships.
Their determination to be with their beloved partners defies conventional norms and challenges societal expectations and how their decisions affect with their children, spouses, parents, families, and friends.
Seema Haider, Pakistan & Sachin Meena India
Seema Haider, a Pakistani woman, managed to overcome tremendous odds to be with her Indian husband, Sachin Meena. However, their journey hasn't been without its challenges. Seema's daring escapade involved sneaking into India illegally through Nepal in May, accompanied by her four children, to live with her love, Sachin Meena, in Rabupura village, located 90 km from Delhi. Their love story began in an unexpected place – PUB G, a gaming chatroom, where they first connected and their bond grew stronger despite the geographical distance that separated them.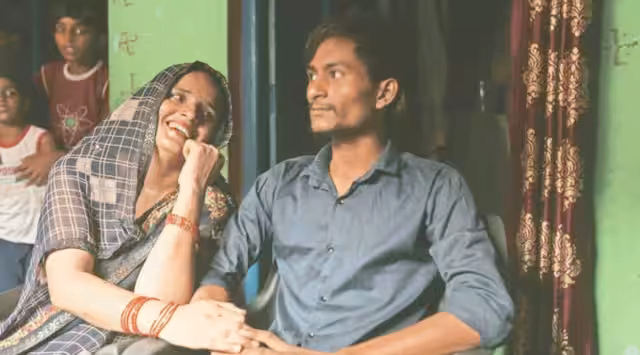 While Seema's audacious move, it didn't go unnoticed by the authorities. On July 4, local police arrested Seema Haider for entering India illegally, and her husband Sachin Meena was also held for providing shelter to illegal immigrants.
Despite the legal challenges, both of them being granted bail by a local court on July 7.
In a bid to verify Seema's identity and claims, all documents recovered from her have been sent to the Pakistan embassy in New Delhi. Her journey has been closely monitored by security agencies amid suspicions of her being a Pakistani spy, further adding to the complexity of their love story.
Pakistan's intelligence agencies have informed the country's government that "love" is the "only" factor that led the mother of four to sneak into India to live with a Hindu man whom she befriended through an online game platform, according to a Pakistani media report.
According to a report by news agency PTI, Seema's neighbors and a relative have expressed their disapproval and reluctance to welcome her back in Pakistan.
One of the neighbors, the 16-year-old son of the landlord with whom Seema and her children resided for three years, made a blunt remark, stating, "She should just send her children back to Pakistan. She can stay there. Now she is no longer even a Muslim."
Seema Haider and Sachin Meena have continued to stand by each other.
On the other side of this cross-border love story is Anju, a 34-year-old Indian woman, who took a legal route to reach Pakistan and marry her 29-year-old Facebook friend, Nasrullah. The two had connected through social media back in 2019, and their bond only grew stronger with time.
Anju Meena, India and Nasrullah, Pakistan
Anju, a 34-year-old Indian mother of two, married her Pakistani Facebook friend, Nasrullah, in Pakistan after converting to Islam.
The couple tied the knot in a local court of the Upper Dir district of Pakistan's Khyber Pakhtunkhwa after Anju converted to Islam and took Fatima as her new name, reported PTI.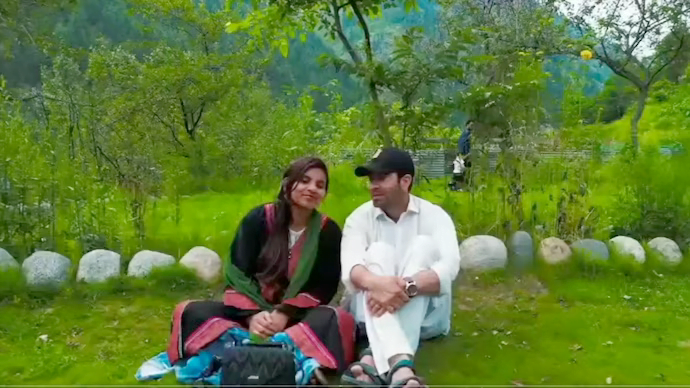 "Nasrullah and Anju's marriage was solemnised today and proper a Nikah was performed after she converted to Islam," a senior officer at Moharrar City Police Station in Upper Dir district Muhammad Wahab told the news agency. Nasrullah, a science graduate from a university in Sheringal earlier said that Anju was just visiting Pakistan and they have no plans to get married. She is scheduled to return to India on August 20, as her month-long visa expires, according to an affidavit given to local authorities by Nasrullah.
According to a report by Live Hindustan, Anju, who had previously converted to Christianity, hails from Kailor village in Uttar Pradesh and later resided in the Alwar district of Rajasthan. In 2007, she tied the knot with Arvind, and together, they have a 15-year-old daughter and a six-year-old son.
In an extraordinary journey of love and cross-border romance, Anju traveled from India to Pakistan's Khyber Pakhtunkhwa province through the Wagah-Attari border near Amritsar on July 21. Her destination was Nasrullah, whom she had met on Facebook back in 2019.
Gaya Prasad, the father of Anju Meena, the Indian woman who embarked on a journey to Pakistan to meet her Facebook friend Nasrullah, has come forward with surprising claims about his daughter. According to Gaya Prasad, Anju suffers from a mental illness, and he had no knowledge of her plans to visit Pakistan or her connection with Nasrullah. He expressed his disapproval of Anju's actions, deeming her decision to go to Pakistan as "wrong."
Gaya Prasad further revealed that he had lost touch with his daughter over time, as she mostly resided in Uttar Pradesh at her maternal grandparents' residence. Contrary to what was initially believed about Anju's motivations for visiting Pakistan, Gaya Prasad asserted that she went to the neighboring country to meet her female friend, terming her intentions as meeting her 'saheli.' The situation has left Gaya Prasad bewildered and deeply concerned about his daughter's well-being and actions.
The father of Anju, the Indian mother of two children who crossed the border to marry her Pakistani friend Nasrullah, expressed strong emotions about her actions. He stated that Anju is now dead to him since she left her home to pursue this relationship. He also asserted that he will not seek the assistance of the Indian government to bring her back, and instead, he said, "let her die there." The decision has left the father deeply hurt and resolute in his stance, reflecting the complexity of emotions surrounding the cross-border love story.
Julie Begum, Bangladesh and Ajay Singh, India
In a compelling and puzzling love story, Julie Begum, a woman from Bangladesh, journeyed all the way to Moradabad in Uttar Pradesh, India, to marry her beloved, Ajay Singh, whom she had initially met on Facebook. Their virtual connection had led to a profound bond, and they decided to take the plunge into matrimony.
However, the tale takes a distressing turn as after their marriage, Julie Begum took Ajay Singh back with her to Bangladesh. In a shocking turn of events, she sent distressing photos of him soaked in blood to his worried mother, leaving everyone bewildered about the circumstances behind this distressing act.
The Moradabad case came to the forefront when Ajay Singh's mother urgently approached the senior superintendent of police (SSP) in Moradabad, seeking intervention to rescue her son and bring him back home. As the city police initiated an investigation into the matter, the shocking details of Julie Begum and Ajay's love story began to surface.
As the investigation unfolds, authorities are working to piece together the events leading up to this tragic incident. The story of Julie Begum and Ajay Singh's ill-fated love affair serves as a reminder of the complexities and uncertainties that can arise when online connections spill over into real-life relationships.
Around a year ago, Julie, accompanied by her 11-year-old daughter, Haleema, arrived in India. In a parallel to Seema Haider's journey, Julie, too, embraced Sanatan Dharma, converting from Islam, and married Ajay.
In a captivating tale reminiscent of a Bollywood movie, the stories of these three women who took daring risks to meet their online lovers have unfolded with both awe and bewilderment. Leaving behind their children, parents, and spouses, they ventured into unknown territories of love, driven by the powerful force of virtual connections.
As readers reflect on these extraordinary narratives, they are left to draw their own conclusions. For many, this saga underscores the paramount importance of immediate family, these women willingness to make sacrifices to be with their social media friend, lover. While the allure of digital connections can lead to remarkable encounters, it is the bonds forged with one's family that often prove to be the truest and most enduring of all.
What happens to the destiny of the children who find themselves either abandoned or ensnared in their mother's audacious escapades. The repercussions weigh heavily on both the children and their parents, with far-reaching consequences. We invite our readers to contemplate the potential trauma experienced by all those involved as we delve into these poignant narratives. Amidst the backdrop of such extraordinary circumstances, we invite our readers to reflect on the emotional toll and the formidable challenges confronting both the children and their parents.
When a love adventure of this nature goes sour, the consequences can be deeply challenging for the women involved. If the relationships break down or encounter legal complexities, these women may face difficult decisions on how to proceed.
In such situations, returning to their home country might not be straightforward, especially if they entered the other country illegally or without proper documentation. They could potentially face deportation or legal consequences for crossing borders without authorization.
Seeking asylum might be an option for some women, especially if they fear persecution or harm in their home country due to their relationship with someone from a different nationality or religion. However, obtaining asylum is a complex process that requires meeting specific criteria and legal requirements.
The women's families' reaction to their return could vary significantly. Some families might be understanding and supportive, welcoming their loved ones back and helping them navigate the challenges they face. On the other hand, some families might struggle to accept their choices and may initially reject them.
In such situations, women might find themselves in difficult circumstances, navigating legal challenges, emotional turmoil, and the uncertainties of rebuilding their lives. The outcomes will depend on various factors, including legal systems, individual circumstances, and family dynamics.
In conclusion, these powerful and compelling stories illuminate the notion that love knows no boundaries and can transcend all obstacles. As we've witnessed the extraordinary lengths people go to for love, it becomes evident that love is indeed blind. It defies societal norms, geographical borders, and even rational reasoning, guiding individuals to make daring decisions that impact not only their own lives but also the lives of those around them.
The article is written based on the media reports about these three women and how it has impacted themselves, family and friends.