Canada
The British Columbia Ugandan Asian Resettlement Committee an exhibition themed "Kampala to Canada," about their 50 years journey in Canada.
"It's a commemoration and not a celebration," says the curator of the exhibition, Taslim Samji, a self-taught artist who studied at Emily Carr University of Art and Design. "Many Ugandan Asians experienced incredible loss, suffering and trauma due to the forced exodus issued by President Amin in 1972."
Fifity years ago, Uganda's third President Idi Amin gave about 80,000 South Asians (Indians and Pakistanis) 90 days to leave Uganda. Thousands arrived in Canada, penniless, uncertain. After Amin's reign, the Ugandan government made efforts to welcome Asians back. Only a few returned.
"Since then, Ugandan Asians have given back to Canada – economically, socially, and culturally," says Samji. "We have profiled several Ugandan Asian Canadians in the exhibition. They are among land developers, hoteliers, entrepreneurs, educators, doctors, all of whom call Metro Vancouver home; they are generous supporters of community and social initiatives with their time and resources."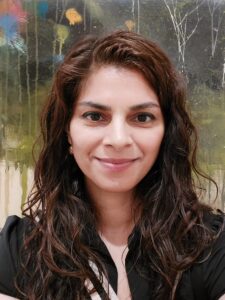 This four-day exhibition runs October 24 through 27 at the Roundhouse Community Arts and Recreation Centre, Vancouver. The opening reception is on October 25 from 6:45 p.m. to 8 p.m.
"With over 40 Canadian artists taking part in this exhibition, from Uganda, Iraq, Philippines, Malaysia, China, Kenya, Tanzania, Afghanistan, India and Pakistan, there are many stories, perspectives, and expressions to be shared," says Samji.
"This was the last project he worked on," explains Zool Meraly, longtime friend of the late John Halani. "John was a Ugandan Asian who owned hotels on Robson Street, downtown Vancouver, for many years. He gave generously with his heart, time, and resources."
He is one of the Ugandan Asians profiled in the exhibition.
"As we commemorate 50 years of Ugandan Asian Resettlement in Canada, we acknowledge that the place we now call home is also on unceded lands," says Samji. "Colonialization has left lasting effects across the globe."