In the recently concluded Cricket World Cup 2023, which unfolded its grandeur in India from October to November 2023, the cricketing world witnessed an undeniably outstanding performance by the undefeated Indian team, currently battling it out in the finals against Australia.
Amidst the thrilling matchups and astonishing feats, we take a moment to spotlight the achievements and stories of South Asian 'Desi' origin players from New Zealand, South Africa, the UK, and the Netherlands.
New Zealand's Sensation: Rachin Ravindra's Meteoric Rise
Born in Wellington on 18th November 1999, Rachin Ravindra hails from parents of South Indian origin from Bangalore. The son of a cricket-loving software architect, Ravi Krishnamurthy, Ravindra's journey to cricket stardom began at the age of five. Influenced by the iconic Sachin Tendulkar, he started playing cricket in Wellington and annually traveled to Bangalore for club matches.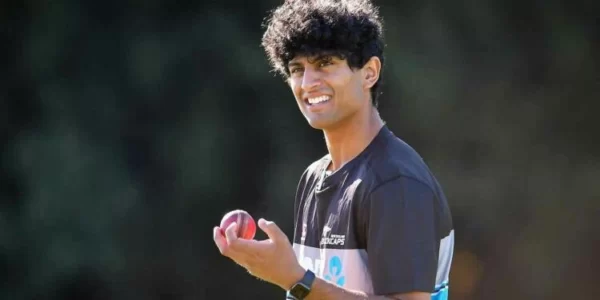 In the opening World Cup match against England, Ravindra, batting at no. 3, etched his name in history by becoming the fourth Kiwi player to hit a century on World Cup debut, scoring an unbeaten 123 runs off 96 balls. His record-breaking journey continued with two more centuries and a historic total of 550 runs in the tournament. Ravindra's exceptional performance set numerous records, including the fastest century by a New Zealand player in World Cup history and the most World Cup centuries scored by a player for New Zealand.
Ish Sodhi's Spin Wizardry
He moved to Papatoetoe, New Zealand with his family when he was four years old. He attended Papatoetoe High School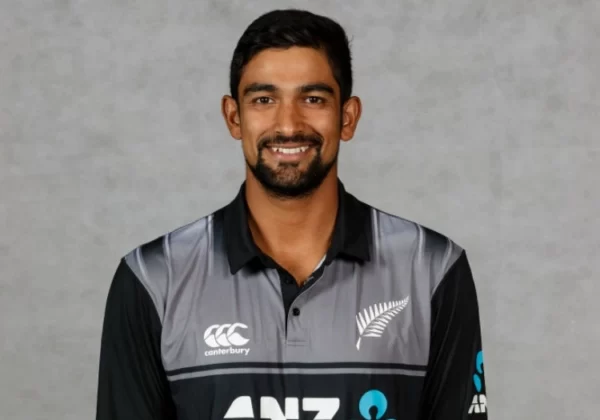 Inderbir Singh "Ish" Sodhi, born in Punjab, India, showcased his spin prowess for the New Zealand cricket team. Bowling right-arm leg spin, Sodhi reached the no.1 T20I bowler ranking in January 2018. With 49 ODIs under his belt, Sodhi's impressive tally of 61 wickets, including a notable 5-wicket haul, solidified his status as a key player in the Kiwi squad.
Netherlands' Rising Star: Vikramjit Singh's Triumph
Vikramjit Singh, a Dutch cricketer born in Punjab, India, made his mark as a left-handed opening batsman for the Netherlands. Born on January 9, 2003, in Cheema Khurd, Punjab, Singh's journey included familial ties to the Netherlands following the 1984 anti-Sikh riots.
His remarkable innings of 110 against Oman played a pivotal role in the Netherlands' qualification for the 2023 Cricket World Cup, marking a significant milestone in his young career.
Teja Nidamanuru's Unique Journey
Anil Teja Nidamanuru, an Indian-born cricketer representing the Netherlands, has carved a unique path in international cricket. Born in Vijayawada, Andhra Pradesh, Nidamanuru was raised in New Zealand, adding a distinctive twist to his cricketing journey.
As a business development manager off the field, Nidamanuru's on-field achievements are equally impressive, with 21 ODI matches under his belt, tallying 501 runs, including two centuries.
Aryan Dutt: Netherlands' Off-Spin Prodigy
Aryan Dutt, a 20-year-old off-spinner with ancestral roots tracing back to Hoshiarpur, Punjab, has proven to be a valuable asset for the Netherlands in international cricket. With 26 ODIs, Dutt has impressively claimed a total of 21 wickets.
His cricketing journey, influenced by India's 2011 Cricket World Cup win, culminated in a crucial role in the 2023 Cricket World Cup, where he equaled the record for the most sixes in a World Cup innings by a number-ten batsman.
United Kingdom's Dynamic Duo: Moeen Munir Ali and Adil Rashid
Moeen Munir Ali, an English cricketer born on June 18, 1987, in Sparkhill, Birmingham, has left an indelible mark on international cricket. As the vice-captain for England in limited overs cricket, Moeen is celebrated for his exceptional all-round skills. He played Test cricket for England between 2014 and 2023, amassing over 3,000 runs and claiming 200 wickets, a feat achieved by only 16 players in the history of the game.
Of Pakistani and English descent, Moeen's family history adds a layer of cultural richness to his cricketing journey. His grandfather migrated to England from Mirpur, Kashmir, while his grandmother, Betty Cox, was a white Briton. Moeen's father, a taxi driver and psychiatric nurse, nurtured his passion for cricket. Growing up on the same street as fellow cricketers Kabir Ali, Naqash Tahir, and Rawait Khan, Moeen became known fondly as "the beard that's feared" while playing for Worcestershire.
A lifelong supporter of Liverpool F.C. and a keen football fan, Moeen Munir Ali's cricketing journey is not just about statistics but a testament to diversity and a fusion of cultures. His recent comeback from retirement during the 2023 Ashes series showcased his unwavering commitment and love for the game.
Adil Usman Rashid
Adil Usman Rashid, born on February 17, 1988, in Bradford, West Yorkshire, is another cricketing gem representing England in One Day Internationals (ODIs) and Twenty20 Internationals (T20Is). In domestic cricket, Rashid is associated with Yorkshire, and he has played in multiple Twenty20 leagues, showcasing his talent on both national and global stages.
Like his England teammate Moeen Ali, Adil Rashid belongs to the Mirpuri community, with his family having migrated to England in 1967 from Mirpur, Kashmir. His brothers, Haroon and Amar, also share the cricketing passion.
Rashid's spin bowling prowess and strategic contributions on the field have earned him recognition and accolades. In the 2023 Indian Premier League auction, he was bought by Sunrisers Hyderabad for Rs. 2 Crore, emphasizing his value in the shortest format of the game.
As the cricketing world applauds Moeen Munir Ali and Adil Usman Rashid for their significant contributions, their stories embody the spirit of diversity, resilience, and excellence in the United Kingdom's cricketing landscape.
South Africa's Spin Sensations: Keshav Maharaj and Tabraiz Shamsi
Tabraiz Shamsi, born on February 18, 1990, in Johannesburg, is a renowned South African cricketer known for his variations and passionate celebrations. His left-arm unorthodox spin bowling has dazzled cricket enthusiasts globally. Shamsi has played first-class cricket for various teams, including Dolphins, Gauteng, and Titans.
With a crafty left-arm chinaman bowling style, Shamsi boasts a dangerous googly and has taken over 270 wickets in his first-class career. Making his Test debut in November 2016 against Australia in Adelaide, Shamsi has left an indelible mark with his consistent performances.
Keshav Athmanand Maharaj, born on February 7, 1990, is a stalwart in South African cricket, representing the national team in Tests, One Day Internationals (ODIs), and Twenty20 Internationals (T20Is). Currently serving as the vice-captain in limited overs cricket, Maharaj's impact as a left-arm spinner has been profound, with significant contributions in Test matches and ODIs.
Maharaj's ancestral roots trace back to Sultanpur, Uttar Pradesh, adding a unique dimension to his cricketing journey. His great-grandfather migrated from Sultanpur, India, to Durban in 1874 as an indentured laborer. Born in Durban, KwaZulu-Natal, Maharaj's father played as a wicketkeeper for KwaZulu-Natal. His left-arm spin has earned him a pole position in the World Cup 2023, amassing 14 wickets from nine matches at an economy rate of 4.37.
As South Africa's spin sensations, Keshav Maharaj and Tabraiz Shamsi, continue to leave their imprint on international cricket, their stories embody the resilience, skill, and passion that define South Africa's cricketing legacy.
As the Cricket World Cup 2023 unfolds, these South Asian origin players have not only showcased their cricketing prowess but have added diverse narratives and backgrounds to the rich tapestry of this global cricketing spectacle.