USA
President Biden presented the prestigious National Medal of Science and the National Medal of Technology and Innovation to a cohort of distinguished American scientists, including two individuals of Indian descent. The ceremony took place on Tuesday, October 24, 2023, in the East Room of the White House. The accolades recognize exceptional contributions in science, technology, and innovation that significantly contribute to the nation's advancement and well-being, as highlighted in a press release from the White House.
Among the recipients were Subra Suresh, affiliated with MIT and Brown University, honored with the National Medal of Science, and Ashok Gadgil from Berkeley, awarded the National Medal of Technology and Innovation. These medals mark a return after a seven-year hiatus since their last presentation in 2016.
During the announcement, President Biden emphasized the nation's commitment to fostering scientific excellence, stating, "We're determined to return great science to America," and hailed this year's awardees as extraordinary trailblazers whose work has set the stage for future scientists and innovators to explore and realize the nation's full potential.
The National Medal of Science, established in 1959 by Congress, is the highest scientific honor bestowed by the President on individuals making exceptional contributions across various scientific domains in service to the nation.
Similarly, the National Medal of Technology and Innovation, instituted in 1985, celebrates technological achievements and the visionaries who have strengthened the nation's economy and enhanced the quality of life through their innovative endeavors.
The White House lauded these awardees for leveraging the power of science and technology to solve complex issues and introduce groundbreaking solutions, not just for Americans but also for global communities.
Subra Suresh, a former director of the National Science Foundation, was acknowledged for his extensive leadership in higher education, industry, and government, pioneering interdisciplinary research and the application of material science across various fields.
In response to the honor, Suresh humbly expressed, "This is not why you do science. You don't do this for the reward, you do it for the joy. If somebody notices it, it's icing on the cake, but it's not the cake itself."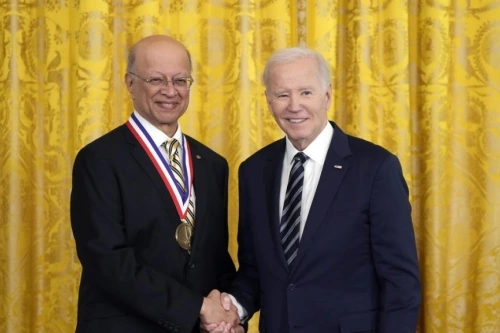 Ashok Gadgil, a distinguished professor renowned for his innovations in water purification technologies and energy-efficient solutions, was lauded for his humanitarian inventions, benefiting low-resource communities worldwide.
Gadgil's efforts have impacted over 100 million people across four continents, addressing some of the most challenging problems in the developing world. His research focuses on computational fluid dynamics, building energy efficiency, and developing inclusive solutions for global poverty.
These individuals' remarkable contributions stand as a testament to the power of scientific innovation in addressing global challenges and positively impacting the lives of millions worldwide.