UK
n an effort to ensure her nine-month-old daughter remains connected to her Pakistani roots, Unzela Khan Sheikh, a second-generation British Pakistani from north London, has penned a captivating children's book titled "Pakistan, I'll Be Back." Inspired by her own experiences in Pakistan, Khan Sheikh wrote the book during her maternity leave, hoping to prevent the fading of her family's ties to their cultural heritage.
"Pakistan, I'll Be Back" tells the story of Anam Khan, an eight-year-old British Pakistani girl who embarks on her first journey to Pakistan. The narrative follows Anam as she visits her relatives and explores the vibrant city of Karachi. The book incorporates illustrations of Khan Sheikh's own family members, providing a personal touch that resonates with readers. Moreover, it has been written in three language translations: English, Roman Urdu, and Urdu script, with the latter translation done by Khan Sheikh's mother.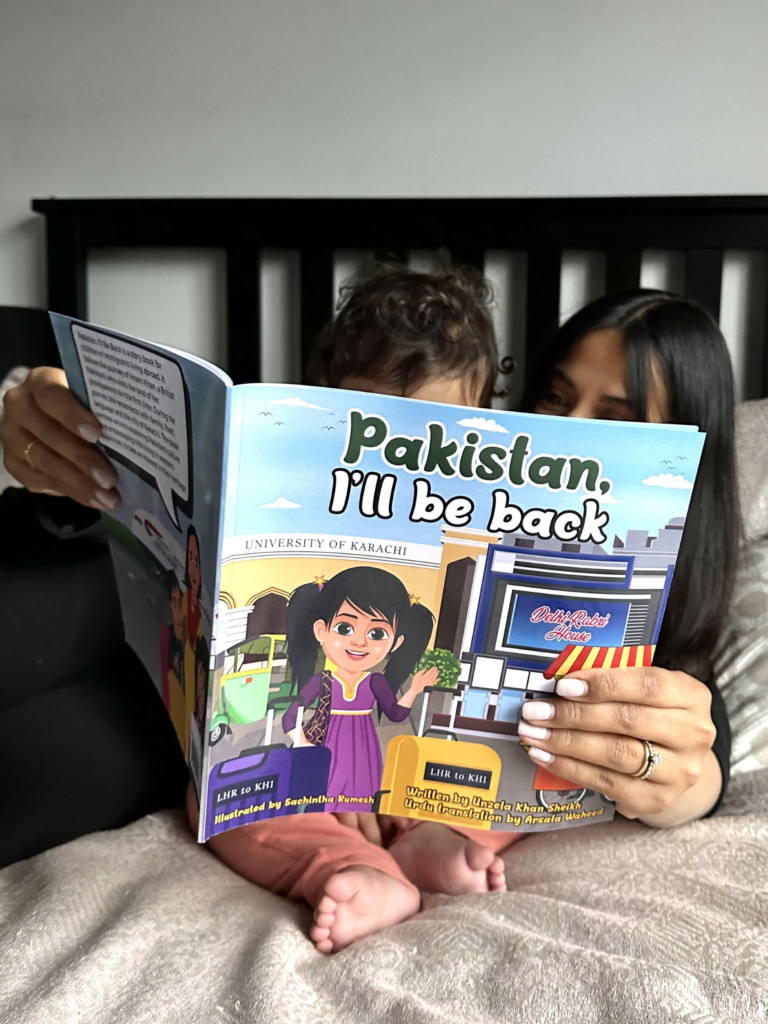 Motivated by the fear that her daughter's connection to her Pakistani heritage would diminish over time, Khan Sheikh, who works as the race and diversity editor for MyLondon, expressed her determination to preserve their cultural identity. "I just had a thought that this is going to die out unless I do something about it and try to teach my daughter," she shared with the PA news agency.
Growing up in north London, Khan Sheikh always identified strongly with her Pakistani roots. However, she felt compelled to downplay her cultural identity in the outside world. At school, she was self-conscious about bringing home-cooked Pakistani food for lunch and eventually stopped doing so to avoid judgment. Khan Sheikh believes many second-generation British Pakistanis struggle to fully connect with either culture, leading to a sense of detachment. She emphasized, "We're British Pakistanis, and at the end of the day, we're never going to be fully British."
Following the birth of her daughter, Aafiya Sheikh, in September, Khan Sheikh recognized that numerous individuals like herself, who were born and raised in England, face the risk of their children growing up detached from their heritage. With the aim of encouraging children to explore their cultural roots, she began writing "Pakistan, I'll Be Back" in March. The book was recently released for purchase on Amazon.
Expressing her hopes for the book, Khan Sheikh stated, "Kids these days, I really want them to be able to take an interest in Pakistan. So this is to encourage that, explore that Pakistani side. You might be more in touch with it than you actually feel you are." Since its launch on July 4, Khan Sheikh has received an outpouring of positive messages from fellow parents expressing their intent to purchase the book and share with their children what Pakistan truly represents.
As the response continues to pour in, Khan Sheikh envisions expanding her series to include other countries, promoting cultural exploration and understanding. She envisions titles such as "Sudan, I'll Be Back" or "Bangladesh, I'll Be Back," emphasizing the importance of children reconnecting with their diverse backgrounds.
Pakistan, I'll Be Back by Unzela Khan Sheikh can be purchased on Amazon here