UK
The Global Association of Physicians of Indian Origin (GAPIO) concluded its 11th midyear conference on July 23, 2023, in partnership with the British Association of Physicians of Indian Origin (BAPIO). The event, which spanned July 22-23, garnered participation from medical professionals and experts worldwide. The honorable inauguration was performed by the esteemed High Commissioner of India to the UK, Vikram Doraiswamy.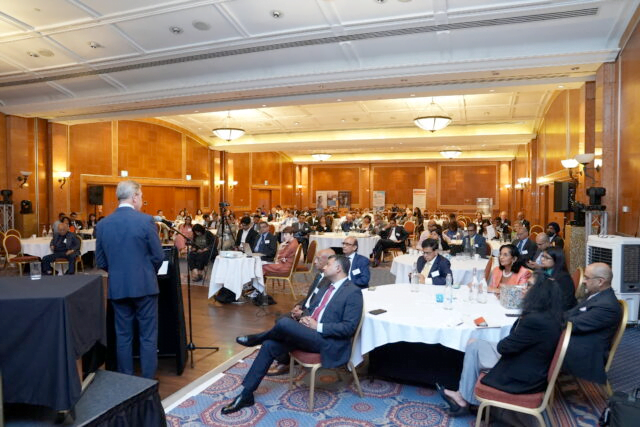 In his opening remarks, High Commissioner Doraiswamy emphasized the pressing need for inclusive and affordable healthcare, advocating for global cooperation to address healthcare disparities. Commending India's contributions towards alleviating the shortage of healthcare personnel on a global scale, he lauded the nation's proactive role in this critical arena. GAPIO's press release highlighted the key messages conveyed during this momentous occasion.
Distinguished speakers and delegates from diverse regions including the USA, India, the UK, Africa, and Europe graced the two-day event. Eminent figures such as Dr. Bipin Batra, Dr. Arun Gupta, Dr. N K Ganguly, Dr. Anupam Sibal, Dr. Shuchin Bajaj, and Dr. Girish Tyagi represented India, enriching the discourse with their insights.
Themed "Global Trends in Healthcare Sustainability," the conference delved into crucial subjects imperative for the future of healthcare. Noteworthy topics covered included the Digital Revolution's impact, the role of Artificial Intelligence in Healthcare, Ageing and Longevity concerns, the pivotal nature of Women's Health in the sustainability paradigm, and strategies to fortify primary care worldwide.
A highlight of the event was the keynote speech delivered by Professor Dr. Bipin Batra on the integration of Artificial Intelligence in Medical Education. Dr. Girish Tyagi offered insights into Risk Assessment within the healthcare sector. Dr. Anupam Sibal and Dr. Shuchin Bajaj underscored India's emergence as a global healthcare leader and a hub for medical entrepreneurship respectively.
Dr. Ramesh Mehta, CBE, President of BAPIO and a former President of GAPIO, reflected on the remarkable contributions of Indian doctors worldwide to the betterment of healthcare. Dr. Mehta played a pivotal role in the establishment of GAPIO, leveraging the support of Indian physicians within the diaspora, particularly from the USA and Australia. Dr. Parag Singhal, CEO of BAPIO Training Academy, elucidated a model aimed at bolstering the healthcare workforce of the National Health Service through skill development.
Dr. Payal Mehta, a General Practitioner affiliated with BAPIO in London, emphasized the significance of holistic well-being and the integration of yoga into sustainable healthcare practices.
Anticipation is already building for GAPIO's upcoming annual conference scheduled for March 16-17, 2024, set to take place in Lucknow. The event promises to continue fostering dialogue on vital healthcare topics and strengthening collaborative efforts towards global healthcare sustainability.