Canada
In a dazzling display of lights and festivity, GO Transit successfully wrapped up its special Diwali campaign, leaving customers enchanted and immersed in the spirit of the Festival of Lights. The unprecedented 'GO Diwali Train' made its debut on the Kitchener line from November 10 to 15, offering passengers an immersive experience in a Diwali-themed coach adorned with vibrant colors that echoed the essence of the celebration.
Passengers stepping aboard the specially decorated train were greeted by a warm and inviting atmosphere, featuring lively Bollywood dancers, the melodious tunes of traditional music, and exciting celebratory giveaways. The entire coach served as a festive haven, ensuring that customers felt the joyous spirit of Diwali throughout their journey.
For those who couldn't partake in the festivities during the initial dates, the beautifully adorned GO Diwali Train continued to traverse the Greater Golden Horseshoe (GGH) until November 26, providing ample opportunities for individuals to catch a glimpse of the radiant celebration.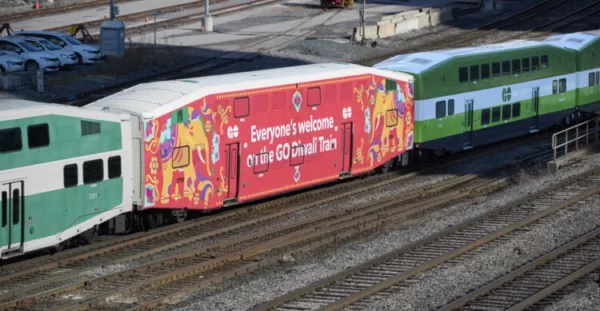 Diwali, celebrated globally as the triumph of good over evil, is a time when families and friends come together. Recognizing the importance of travel in connecting loved ones during this magical season, GO Transit offered affordable options to make the journey even more special. From the $10 GO Weekend Pass to Weekday Group Passes starting at just $30, and with kids 12 and under riding GO for free, the transit service aimed to be a reliable companion for heartwarming and incredibly fun journeys during Diwali.
As the lights twinkled and festivities echoed through the GO Diwali Train, passengers were reminded of the joy, the lights, and the spirit of sharing that define this special time of the year. GO Transit's commitment to creating a memorable Diwali experience resonated with passengers who reveled in the unique celebration, making it a standout moment in the history of transit celebrations.
For those who joined the ride and witnessed the spectacle, the GO Diwali Train proved to be a dazzling celebration that added an extra layer of joy and warmth to their Diwali festivities. As the train completed its journey, GO Transit bid farewell to this special Diwali campaign, leaving behind memories of a celebration that truly lit up the rails.