Dubai
Dubai-based Indian expat Jamila Navagharwala, from the Indian Muslim Dawoodi Bohra Community on Sunday to made a bid to enter the Guinness World Record.
She made a swan with 10,593 items at the 14-acre state-of-the-art campus of Amity School Dubai in Al Qusais-1. The swan is considered to be a symbol of peace much like the conventional crane that adorns the art form.
Her husband Aliasgar Navagharwala, who doubled up as witnesses for the Guinness World Record authorities, and 10 volunteers.
"It was a labour of love for over 10 months. I took to paper origami when I lived in Tokyo, Japan, for around 18 months shortly after my marriage over seven years ago," said Jamila, a mother of two children, Burhanuddin, 8, and Insiyah, 6, who are pupils of Amity School Dubai.
"Though paper origami, which traces its origin to Japan, has struck a big chord in the West, especially in the United Kingdom (UK) and the United States of America (USA), the community that patronises this unique art form is relatively small in Dubai and across the UAE. I've made a modest attempt to promote paper origami in my adopted homeland, the UAE; my artistic inspiration, Japan; and my motherland, India, through my creations. The first three lines of my creations are a tribute to these three nations as they embody deep trilateral ties, and more significantly between the UAE and Japan, which celebrated their golden jubilee of diplomatic relationship last month," she said.
Jamila, who was born and raised in Jabalpur, Madhya Pradesh, in central India, started making the "largest number of origami swans in the world" while juggling her domestic chores and taking care of her two children.
Iranian expatriate, Ali Bahmani, a digital product designer and an origami expert after having lived in Japan for five years in the 1990s, was one of the witnesses on behalf of the Guinness World Record authorities.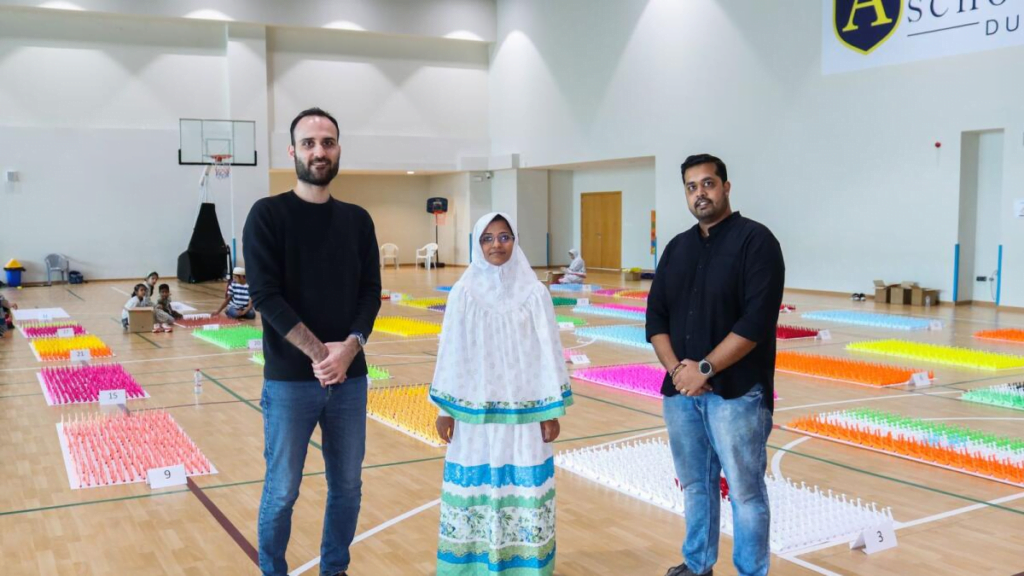 "This is the largest swan made of paper origami I've ever seen. I'm impressed by its aesthetics and simplicity in origami folding, which is a key to the art form," he said.
Indian expatriate, Shrijit Nair, the other origami expert and the second witness for the Sunday's event, too, was moved by Jamila's "attention to detail and her helpful nature".
Nair, an HR professional, singled out that "each and every piece of paper origami was folded by her".
He said her efforts would go a long way in popularising paper origami in this part of the world.
"Origami is an art that acts as a base for diverse subjects such as mathematics, science, engineering and whatever other topics of interest that a child could take during his/her childhood," he added.