USA
The Consulate General of India in New York in partnership with the NYC Mayors Office hosted a CEO round-table meeting with CEOs from various sectors such as banking, finance, pharmaceuticals, retail, diamond and IT. The CEOs who participated in the roundtable included Suresh Muthuswamy, Chairman, North America, Tata Consultancy Services, Michael McCabe, Tata Sons Country Head – North America, and several others.
During the roundtable, Mayor Adams emphasized the importance of understanding the role of the Indian community in the city's prosperity in three areas: encouraging them to participate in the political scene, making a bridge between school, high school kids, and youth with companies that have the required skills for the future, and providing tools to help kids intern and volunteer. He also expressed his commitment to expanding and partnering with Indian businesses to grow their businesses together.
Randhir Jaiswal, Consul General of India in New York, stated that the roundtable provided an opportunity to strengthen the business engagement between New York City and India, particularly in economic ties in the startup, tech, finance, and energy sectors. Jaiswal also highlighted India's status as the world's fastest-growing major economy and its expansion of digital public infrastructure at the fastest pace globally. Dilip Chauhan, Deputy Commissioner for New York City Mayor Office for International Affairs, emphasized the importance the Mayor's Office places on attracting international businesses and companies to expand in the city's five boroughs.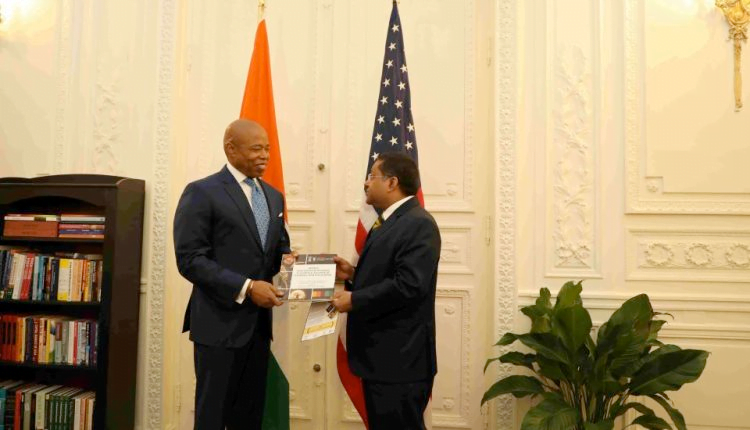 Chauhan stressed that the mayor's message is "GET STUFF DONE" and highlighted the incentives being offered to companies looking to expand their footprint in the city. Officials accompanying the mayor included Mira Joshi, Deputy Mayor for Operations, Andrew Kimball, President and CEO of the New York City Economic Development Corporation, and Edward Mermelstein, New York City Commissioner for International Affairs, among others.
Continue Reading: United Punjabis of America hosts Vaisakhi Mela in Illinois