USA
United Punjabis of America (UPA), hosted a Vaisakhi Mela on April 15th, the event kick started with a Dhol Tasha performance by Maharashtra Mandal. The emcees for the Neha Sobti and Ramesh Malhan welcomed everyone and invited the dignitaries to the stage for the lamp-lighting ceremony.
The dignitaries present at the event were Democratic Congressmen Bill Foster, Raja KrishnamoorthiIndian Consulate of Chicago representative Ranjit Singh, Illinois State Senator Laura Ellman, Naperville Mayor Elect Scott Wehrli, Aurora Alderwoman Shweta Baid, and representatives of Illinois State Comptroller Susana Mendoza and Aurora Mayor Richard Irvin.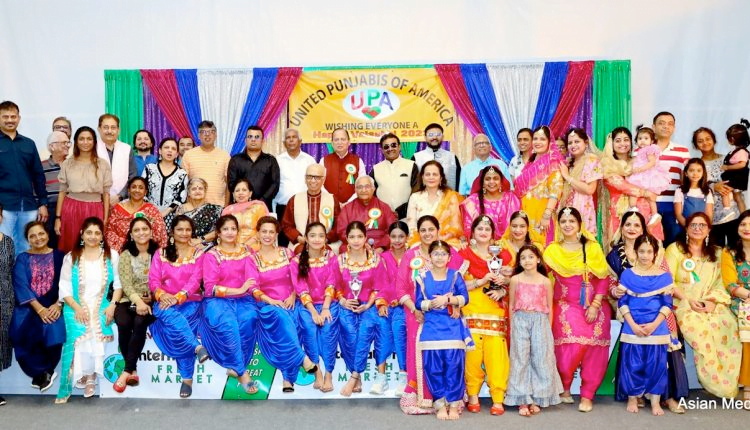 Every year, UPA recognizes community members for their outstanding entrepreneurial or technical achievements and community services.
This year five of these awards were conferred. Sudhir Dureja was recognized as a Distinguished Punjabi for Technical Achievements & Community Service; Dr. Anuja Gupta as a Distinguished Entrepreneur & Community Service Leader; Dr. Vijay Prabhakar as a Distinguished Community Service Leader; Ratna Kapur as a Distinguished Punjabi for Community Service Leadership; and Neha Sobti as a Distinguished Young Punjabi for Community Service.
Dharam Punwani, president of UPA, congratulated the awardees and thanked them for their dedication to service.
The much- anticipated dance performances followed, with colorful giddhas and Bollywood-style medleys performed by multiple dance groups from Chicagoland area. The judges Sarita Sood, Kanan Dhingra, Shammi Wahi, and Ratna Kapur had the difficult job of selecting the winners.
Placing first was Neha Sobti Dance Academy; second place went to Rhythms and Grace Dance Studio by Shalini Dixit; and the third place trophy went to "Dance Academy by Anu Bhattacharya.
"I am so grateful to everyone who participated in these performances and made Vaisakhi Mela such a success," said Rosey Bhasin, a UPA Board member.
In his vote of thanks, UPA Secretary Ashwani Mahajan, , offered thanks to the entire UPA Board and Executive Committee along with a special word of thanks to Girish Kapur and Atul Wahi for working with the Mall of India team on the logistics and the set up for the entire event.
"Vaisakhi is such a beloved festival for us, and I am so proud that UPA continues this tradition of hosting a Mela to bring people together in friendship and gratitude for the bounty this festival blesses us with," acknowledged Pratibha Jairath, former Chairwoman of the Board of UPA.
Entry to the UPA Vaisakhi mela was free. It was made possible by the support of various levels of sponsorships that included: International Fresh Market (Event Level), Mr. Anil Loomba, Home Mortgage Solutions Inc.(Platinum Level), Mr. Amrit Mittal, New York Life (Gold Level), Four Silver Level sponsorships of Mr. Rahul Wahi, LLT Group; Mr. Sunil Shah, New York Life; Dr. Bhupinder Beri, Crossroad Animal Hospital;
Heartland Bank, and eight Bronze level sponsorships of Iroquois Dental, Moin Hauqe Group, Verandah Senior Living, State Bank of India, Blue Sky Innovations, Orochem, Sajmil Builders, and Om Signs and Graphics.
UPA is a charitable non-profit community service organization that has been organizing cultural and social events since 2013, donates food to various food pantries, and offers scholarships for community service.
Continue Reading: Zarina Sayed qualifies for Women's Tennis National Championship