UK
Proving that age is no barrier to effecting positive change within a community, 14-year-old Wania Ahmad has established herself as a trailblazing force in youth leadership and community advocacy.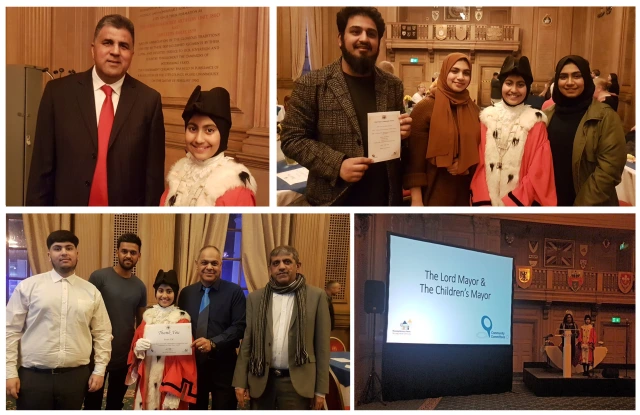 Wania's journey into the realm of public service commenced at the tender age of nine when she clinched the fiercely contested title of Leeds Children's Mayor, affirming her dedication to making a tangible impact on her community.
Now vying for a position in the Leeds Youth Parliament, Wania's campaign centers on preparing the city's youth for the workforce. Her manifesto champions the idea that every young individual deserves access to essential information, skills, coaching, and mentorship to thrive in the competitive job market.
Reflecting on her earlier success as Leeds Children's Mayor in 2019, Wania recounted, "At the time, I was handed an application by my school, Harehills Primary, just a day before the deadline for the Leeds Children's Mayor competition." She hurriedly completed the application, detailing her plans to enhance Leeds for its young population.
Having been shortlisted from 60 participating schools, Wania emerged victorious in October 2019, receiving the coveted Leeds Children's Mayor title from then Lord Mayor, Councillor Eileen Taylor. Her platform at the time centered on the critical issue of mental health and wellbeing among young people.
Throughout her tenure, the young leader faced an unprecedented challenge with the onset of the COVID-19 pandemic. Despite this adversity, she remained steadfast in her commitment to driving positive change within her community, actively collaborating with the council and consistently ranking among the top ten young contributors.
Acknowledging the unwavering support of her family, Wania expressed gratitude for her parents' tireless efforts, particularly her father's selfless dedication, who devoted his spare time to assist her throughout the election campaign, aiding her in achieving her aspirations.
Looking ahead to her vision for the Leeds Youth Parliament, Wania emphasizes the need to provide unique experiences and insights into students' envisioned careers, equipping them with the necessary tools to succeed.
"If elected as a member of the Leeds Youth Parliament, I understand that I can't achieve my goals alone. I aim to work collaboratively with relevant bodies, pooling resources and efforts to provide students in Leeds and the UK with updated knowledge about the evolving world of work and suitable education."
As the UK Youth Parliament Election Voting 2023 nears, Wania's call to action extends to the city's youth aged 11-18, encouraging them to cast their votes for candidates who represent their vision for the future. The voting process, open to Leeds residents or students, allows individuals to select their top three candidates, contributing to the shaping of their city's future.
The election platform can be accessed via the following link: UK Youth Parliament – Election Voting 2023