USA
The Federation of Indian Associations, Chicago (FIA) pulled out all the stops to commemorate India's 77th Independence Day, also known as Azadi Ka Amrit Mahotsav, in a grand celebration held on September 15, 2023. The event unfolded at the state-of-the-art banquet hall of The Matrix Club in Naperville, Illinois.
The gala affair drew a remarkable gathering of more than 550 attendees, featuring luminaries from the Indian community, as revealed in a press release by Asian Media USA. FIA, under the leadership of Founder President & Chairman Sunil Shah, Current President Vinita Gulabani, Past President Neil Khot, Founder and Past President Onkar Singh Sangha, along with the entire Board of Directors, orchestrated an India-centric program, filled with patriotic activities that set the tone for the evening.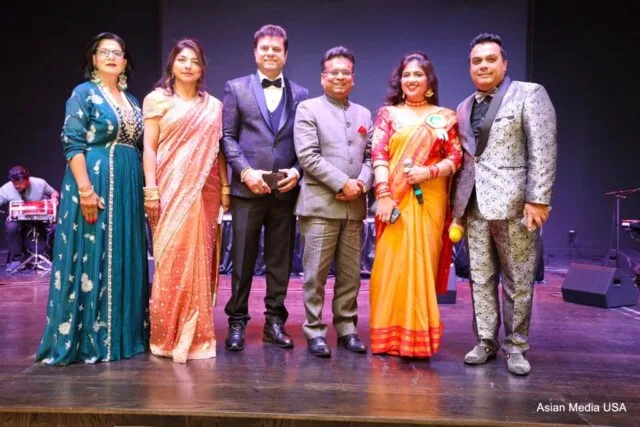 The festivities kicked off with a mesmerizing Bharat Natyam dance performed by Board member and Bharatnatyam exponent Pika Munshi, followed by a heartfelt welcome address by Sunil Shah and Vinita Gulabani.
Distinguished guests gracing the event included Mayor of Oakbrook Larry Herman, who took the stage to deliver a speech and present awards, alongside Shah and Gulabani. A Recognition Ceremony saw the presentation of the Medal of Excellence and Appreciation Certificates to members of the FIA Team for their outstanding contributions.
The event's proceedings featured a traditional lamp lighting ceremony and stirring renditions of both the American and Indian national anthems, beautifully performed by Samaira Bongale and Sahiba Sidhu, respectively.
Renowned Chicago-based singer Nipa Shah stirred emotions with her rendition of "Ae Mere Pyare Watan," while Team Laya wowed the audience with a captivating welcome dance choreographed by Priyanka Parekh.
Sunil Shah expressed his gratitude in a heartfelt speech, saying, "Because of the unforeseen circumstances we had to celebrate Independence Day in September. But the fervor, love for the motherland, and tribute to martyrs is not limited to one day or month, but it's to be celebrated every day." He extended his thanks to the dedicated team members of FIA, the board, and sponsors.
The stage was graced by a host of dignitaries, including Scott Wehrli, Mayor of Naperville, and members of the FIA Advisory Board, who were acknowledged for their significant contributions.
Notably, FIA Community Leadership Awards were presented to outstanding individuals, including Vinita Gulabani, Chintan Patel, Pinkyben & Dinesh Bhai Thakkar, Santosh Kumar MAFS, Dr. Asha Anil Oroskar with OROCHEM, American Dog Movie (Neil Khot), Rajeev Sharma, Dr. Alamdar Badar, Jane Lee Remax, Venkat Talari, Eggholic (Bhagyesh Patel & Lav Patel), Brij Sharma, Dr. Bhupinder Beri, Sona Shah, Harry Mohan, Syed Hussaini, Ajeet Singh (IABC), Manoj Mulki (Rani Foods), Sanjay Vishnu Panjwani (All About Furniture), Global Eye (Dr. Vijay Prabhakar), and DABUR / BADSHAH (Rickie Singh).
In addition to these prestigious awards, FIA Appreciation awards were presented to key FIA Team Members, including Dhitu Bhagwakar, Mukesh Shah, and Hemendra Shah. The media also received recognition, with Media Appreciation Awards bestowed upon Desi Talk & Hi India, Vandana Jhingan, Suresh Bodiwala, Harry Sidhu, Prachi Jaitly, and Phani Krishna.
The event reached its zenith with a medley of patriotic songs performed by the talented FIA singers, namely Pratibha Jairath, Geetanaji Maru, Jitendra Bulsara, Swapnil Sahu, and Ravi Tokala.
The grand finale of the evening was a mesmerizing tribute to the legendary Bollywood poet and lyricist Sahir Ludhianvi, aptly titled "Sahir – A Tribute." The show, directed by Milind Oak, narrated by Nachiket Devasthali, and supported by singers Abhilasha Chellam, Rasika Ganoo, Dhawal Chandwadkar, and their team of musicians, enthralled the audience for almost three hours, delivering unforgettable renditions of Sahir's most iconic songs.
Attendees were effusive in their praise for the talented artists, expressing their desire to return for future events. FIA extended its gratitude to all the vendors who set up booths and provided delectable food samples.
Guiding the audience through this unforgettable evening were the event's Emcees: Richa Chand, Anu Malhotra, Pratibha Jairath, Suchitra Kukreja, and Chandini Duvuri.
The FIA's "Ae Mere Watan" celebration truly embodied the spirit of India's independence and served as a testament to the unity and cultural richness of the Indian community in Chicago.