USA
The Federation of Indian Associations in Chicago (FIA-Chicago), a stalwart organization founded in 1980, orchestrated a dazzling extravaganza in honor of India's Independence Day. The prestigious event, which took place at The Waterford Banquet Hall, was a testament to the enduring spirit of freedom and a vibrant celebration of Indian culture. The festivities were magnificently complemented by a poignant Flag Hoisting ceremony at Daley Plaza-City Hall Chicago, encapsulating the essence of the occasion.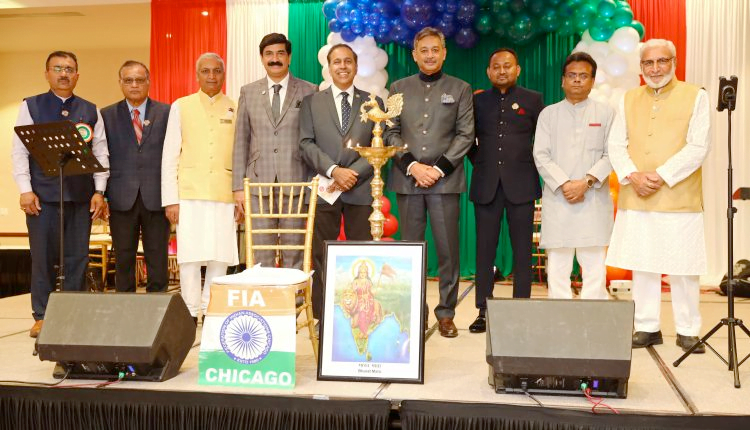 The Waterford Banquet Hall was transformed into a breathtaking spectacle that captured the heart and soul of India. Vibrant decorations adorned with the national colors of saffron, white, and green imbued the atmosphere with a sense of patriotic fervor. Traditional motifs paying homage to Indian heritage graced the venue, and enlightening exhibits recounting India's arduous struggle for independence were on display. A centerpiece of remarkable significance emerged in the form of an illuminated map of the Indian subcontinent, adorned with the iconic tricolor.
Distinguished luminaries from a multitude of sectors graced the occasion, underlining the event's spirit of inclusivity and collaboration. The guest list was a testament to the event's grandeur, boasting the presence of political leaders, foreign dignitaries, renowned cultural icons, celebrities, diplomats, military personnel, accomplished business magnates, esteemed academics, and numerous other notable figures. Among the luminaries were Counsel General of India, Mr. Somnath Gosh, and Congressmen Raja Krishnamoorthi and Danny Davis. Prominent personalities such as Mr. Mafat Patel, Ms. Santosh Kumar, and Mr. Vinod Gupta also added to the event's luster. Dignitaries hailing from India, including Mr. Sambhaji Raje Bhosle, Adv Dr. A.P. Krishna Das, Zafer Baig, and Raj, further highlighted India's remarkable diversity. Trustees and members of the Executive Committee were also in attendance, strengthening the sense of unity.
President Dr. Rashmi Patel took the stage to highlight FIA's illustrious journey and remarkable achievements. Notable milestones such as the regained NFP status, the International Yoga picnic day, and the organization's proactive engagements with the Counsel General Mr. Somanath Ghosh were acknowledged. The Women Power Cell and FIA Youth Cell were commended for their invaluable contributions. Dr. Patel also unveiled the new FIA website, FIACHICAGO2023.ORG, and announced plans for an AROGYA Day dedicated to community health education. The solemn Flag Hoisting ceremony at Daley Plaza-City Hall Chicago marked a poignant beginning to the day's festivities, with dignitaries including President Dr. Rashmi Patel, CG Mr. Somnath Ghosh, and Sambhaji Raje Chhatrapati paying homage to India's struggle for freedom.
The Waterford Banquet Hall emerged as a stage where India's rich cultural heritage was showcased with brilliance. Captivating performances encompassed classical dance forms, traditional folk dances, and a musical repertoire that spanned from soulful Hindustani melodies to contemporary genres. Resonating with the spirit of patriotism, renditions of songs that once fueled India's march to independence struck a chord with the audience.
Inspirational speeches resonated with the significance of Independence Day, kindling a sense of national pride and unity among all present. Notably, Maria Pappas honored Trustees and the President of FIA-Chicago with mementos, acknowledging their pivotal roles.
The festivities continued with a convivial light lunch at the Cook County Treasurer's office, fostering social interaction and meaningful networking. The organizing prowess of the Women Power Cell and Youth Cell played a pivotal role in orchestrating both programs, with the Youth Cell gearing up for upcoming Volleyball and Cricket tournaments.
In the grand tapestry of FIA-Chicago's India Independence Day Gala at Waterford Banquet Hall and the reverential Flag Hoisting at Daley Plaza-City Hall Chicago, India's resolute fight for freedom was masterfully intertwined with its remarkable achievements. The celebration not only showcased the nation's rich heritage and global influence but also united attendees in a shared sense of pride and unity.